If I were You I Would Have a Few Questions About BootyCamp, Questions Like:
What is BootyCamp anyway?
BootyCamp is a bootcamp for women only. All of our programs and workouts are designed specifically for women and we place an emphasis on weight loss and body toning. We give you everything you need from workout classes and nutritional coaching to individual support and motivation. Ours programs are designed to get you in the best shape of your life in the shortest, safest possible time regardless of your current fitness level.
What if I'm not very physically fit?
At BootyCamp we have different classes for different levers of ability. If this is your first program with us then you will join the beginners class. In this class everyone is starting from the same level and you will receive plenty of instruction from our coaches. No camper will be left behind or asked to complete more than they are capable of doing safely. Weather you have five or fifty pounds to lose, or just those stubborn ten, you'll find that Fit Body Boot Camp is just the program for you!
What if I can't attend all the days offered?
As a beginner you will have access to all of our classes however we do recommend that you stick to the beginner classes for your first 4 weeks. If you are going to miss some classes you can always join in with an advanced class if you want. Although we recommend attending the 3 beginner classes per week you will still get fantastic results if you make it to 2 classes. If you are going to miss a lot of classes then you can talk to your instructor about making those classes up on other days.
What Do I need to bring?
Nothing. We'll provide all the equipment, motivation, and accountability you'll need. Just bring a water bottle and a sense of adventure!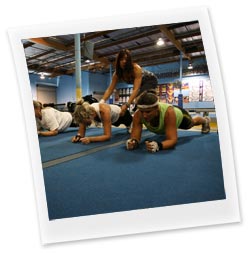 What can I expect to achieve?
At BootyCamp you are going to achieve unbelievable results. In the first four weeks the average weight loss is about 10 pounds, and some members have lost an entire stone (14 pounds) and even more. Our guarantee is that you will lose at least 5 pounds (almost half a stone) and the more classes that you come to the more weight you will lose. You can also expect to tone your thighs, booty, stomach, and upper arms, because they are the main areas that we focus on in BootyCamp.
How is this different from other Bootcamps?
Firstly, our bootcamp is a women's only bootcamp and therefore everything we do is designed for women. Also other bootcamps are usually exercise bootcamps only. They might give you a good workout but they don't provide you with support, motivation, and of course the most important aspect – nutrition. If your goal is weight loss and/or to tone up then what you eat is actually more important than your exercise. At BootyCamp we give you all that you need and that's the main reason why our bootycampers keep coming back to class. And best of all we are the ONLY fitness and weight loss program to offer a "see results or get your money back" guarantee!
What is the Health and Nutrition Plan?
Our nutritional plan is a sensible and sustainable approach that will ensure you are getting the best results. At BootyCamp we don't do any "dieting" or restrictive eating. We teach you important lifelong skills and strategies for success. This is so important because it's not only our job to get you in shape while you come to bootcamp, but also to show you what you need to do when you leave so you're able to keep your new body!
Do I have to do the Nutrition Plan?
Absolutely not. The nutrition plan is for bootycampers who want maximum results. Because nutrition accounts for about 60-70% of your weight loss results it is extremely important that we teach you good nutritional practices so you're getting everything that you need from BootyCamp. However if you would rather just come to class for a great workout then that's no problem at all.
Can I pay per class?
When BootyCamp started we had drop-in classes for €10-€15 but we have since decided to stop this as we can provide much better value with our packages. All of our programs are €99 which means you get each class for €8, but you're also getting everything else that BootyCamp has to offer so this is a much better deal and more importantly you'll get much better results.
Will I be sore sometimes?
Yes. Especially after your fist few classes you may be sore for quite a few days. There is no need to worry as this just means that you are working hard in class and your body needs to adjust. As you continue to come to class and get results your body will adapt and you will not feel as much pain.
Can I try BootyCamp before signing up?
Yes absolutely. Everyone gets there first class for free and we also do "free" weeks every month where you can come to any of our classes for free. All this information is posted on our BootyCamp Facebook wall.
What is the Refund Policy?
If you do not lose at least 5 pounds in your first 4 weeks (or if you're simply not happy) just let us know and we'll give you a full refund!
How do I sign up now?
Just go to this page http://bootycamp.ie/ and scroll down to the bottom where you will see a Paypal link. Click on that and it will bring you to the sign up page.
What is a typical day like at camp?
In one word ? FUN! Each workout program is intentionally different to alleviate boredom and to give you maximum results in minimum time. We generally have "themed" workouts. For example Monday's are usually lower body with a focus on thighs and booty. Thursday's is our "bum and tummy" workout, and so on. Each instructor will giver you a different workout and everything we do is catered to women.
Does the camp ever end?
BootyCamp is an ongoing program. After all it's a lifestyle change. You're welcome to join for just 4 weeks or stay on board for the long haul like 85% of our members.
What types of people go to camp?
Most of our bootycampers want to tone up and lose some weight in the process, feel better about themselves, and participate in a workout class that is quick, effective, and FUN!
What if I have other questions?
Please send an email to our communications manager – Jane – at the following address: Jane@bootycamp.ie
She will take good care of you!